Tomáš Pospíšek's Notizblock
This is the first time, that everything worked after an dist-upgrade (jessie -> stretch): wireless, graphics, sound, suspend, desktop. Awesome! Very well done to all those who had a hand in this! Thank you!
Tomáš Pospíšek, 2018-02-05
Hernandez - Human Diastrophism
Der Comic "Blut von Palomar" (orig: Human Diastrophism) von Gilbert Hernandez hat mich sehr beeindruckt.
Wenn man anfängt, hat man das Gefühl, das wären schnell gezeichnete und schnell hingeworfene Episoden, bei denen grosse Brüste das eigentlich zentrale Element des Comics wären -
Hernandez bringt in hirnberaubendem Tempo Überfluten von Personen in die Geschichte ein und doch begreift man im Laufe der Geschichte, dass sich diese Personen im inneren Geist in ein organisches Ganzes zusammenfügen. Ein mir einmaliges Erlebnis.
Ebenfalls äusserst beeindruckend ist Hernandez' Fähigkeit, jeder einzelnen Person ein eigenes, charakteristisches Gesicht zu geben und dieses in fliessend wechselnden Konstellationen vielfältige Gefühlslage ausdrücken zu lassen.
Letzteres ist auch der Grund, warum die Unmengen von auftretenden Personen dem Betrachter vertraut werden: weil das Hirn sich Gesichts-Charakter unwahrscheinlich gut merken kann - wohl besser als Namen oder Fakten.
Und Hernandez schafft es diese Gesichter mit minimaler Anzahl von scheinbar schnellen, kunstvollen Strichen ohne jegliche ersichtliche Anstrengung aufs Papier zu bringen: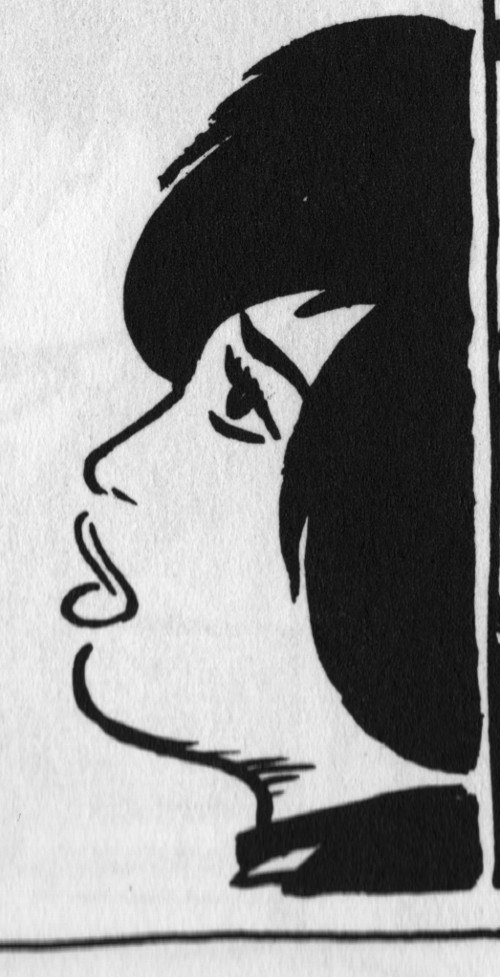 Sehr beeindruckt.
Tomáš Pospíšek, 2018-01-02